==Important==
I've moved this post over to my new WordPress blog, you can
comment on it here
.
While looking at the invitational graphic that Apple sent out for the event they're holding on October 14th, I noticed that it would be the correct size for the rumored glass trackpad. So I opened Photoshop and placed the image on top of the "leaked photos" of the new next-gen MacBook Pro. I think the rumors are true. Makes sense that other companies couldn't duplicate what Apple could do because of the patents it holds on multi-touch.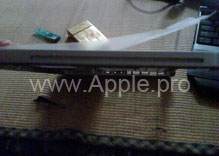 Does this mean that this photo of a LED trackpad is true? I would say yes but the disc slot position differs from the other "leaked" images. Hmmm. Maybe two different models. They both have similar features.
==Update 10/09/08==
Macenstein
posted something
on my blog post tonight.
==Update 10/10/08==
9to5Mac.com has
comment
on this post but oddly enough, they contributed it to Macenstein and not me.
I took Steph's suggestion and I think that the top rounded corners of the invite are a subtle clue. I noticed that originally but just focused in on the rectangle in the middle. Be that a lesson to you boys and girls, don't do design work when you're in a hurry.
==Update 10/14/08==
Here's the new glass trackpad.
"The new smooth glass Multi-Touch trackpad on the MacBook and 15-inch MacBook Pro gives users almost 40 percent more tracking area than before, making it even easier to use Multi-Touch gestures like pinch, rotate and swipe. New gestures allow users to activate Exposé® or switch between applications at the touch of a fingertip. The entire trackpad surface is also a button, allowing users to both track and click virtually anywhere on the trackpad. Users can easily enable multiple virtual buttons in software, such as right-clicking."